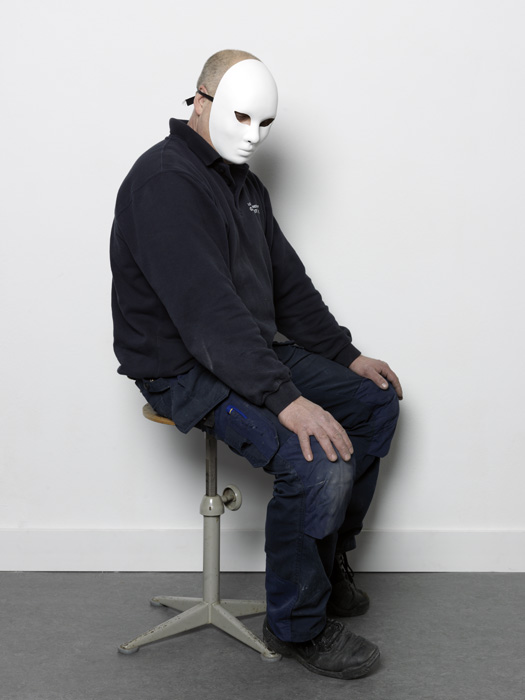 Relation to Beautiful Distress - Annaleen Louwes was the first participating artist in the Beautiful Distress program and took up residence for three months in the King's County Hospital Center (Brooklyn).
Annaleen about her stay: "I was the odd man out, in every respect. Photography is for these people a picture, proof for an identity card, or a large mural on the wall of an idyllic scene with palm trees. But it is not an art form, while I am an artist. The idea of art they did comprehend but in the form of therapy, like drama therapy for example. But I couldn't sort myself into that kind of category. Around the hospital lived mostly poor African Americans and Latinos. I remained the intruder. I found this to be very complicated. I felt very humble and small, because of their pain, I was walking around there. For them I remained the white lady, which evokes distrust as well as respect. I went there the white European, to combat against the stigma of 'poor black crazies', by making photographs, which just produces more stigmas instead of less. For me that was a real struggle and it took awhile before I found a solution for both issues, in my head and in my work."
The work that Annaleen Louwes made in KCHC, was bundled in a beautiful booklet Black and white and (some) kind of blue (available for €15,- at our Foundation, amongs others).
About the artist - Annaleen Louwes (1959) lives and works in Amsterdam. She studied photography at the Rietveld Academy in Amsterdam, where she has been a teacher as well for for a lenghty period. In addition to working on commission for various cultural institutions and magazines, she has been working as an independent artist. Her work is regularly exhibited in museums and galleries at home and abroad. Louwes focuses in her work on the fragility and transience of existence and how this shows to a greater or lesser extent. She worked in the last few years as a guest on the grounds of a mental institution, she worked in an Albanian women prison, explored the boundaries of public mental health of the cities of Amsterdam and New York, and she combined the archives of an Amsterdam psychiatrist with her work in the exhibition 'Louwes versus Meijers' in Dolhuys, Haarlem.
further information about Annaleen Louwes
Website Annaleen Louwes

about the residency
Ontsporen kan iedereen overkomen
Over haar verblijf in New York
About her stay in New York
press and articles
Zo kwam Annaleen Louwes nader tot psychiatrisce patiënten (Volkskrant)
Annaleen Louwes fotografeerde psychiatrische patiënten in New York - Nooit Meer Slapen - VPRO
Fotodocument: I-only-want-to-be-happy